For a young English couple in London, our brief was to draw inspiration from their love of traditional British design and blend that with their wish for a modern space that captured their fondness of art. B3 Designers designed the interiors for their master bedroom and bathroom, putting together colour and material palettes, lighting, and details like soft furnishing and curtains. 
---
Bathroom Interior Design
For this couple, we designed the bathroom to be a space to be enjoyed. A space to relax, read a good book, take a long comforting bath in a cosy, warm atmosphere.
We used mosaic marble along the walls and textured patterns for the floor. 
The bathtub
The traditional standalone bathtub claims its corner, with a view of the lovely trees outside, surrounded by the couple's favourite art. 
The double basin
The sensual double basin stands where the fireplace once was. The marble countertops are supported by nickel and brass pedestals. 
shower & lighting
The walk-in shower embraces the openness of the space, while the dim-control lighting is designed to introduce serenity. All finishes are brass.  
Built-in shelves
Backed by mirrors, the built-in shelves are designed to store towels, bathroom accessories, and plants that go with the entire space's theme. 
Bathroom: Day and Night Shots of the basin, walk-in shower, and built-in shelves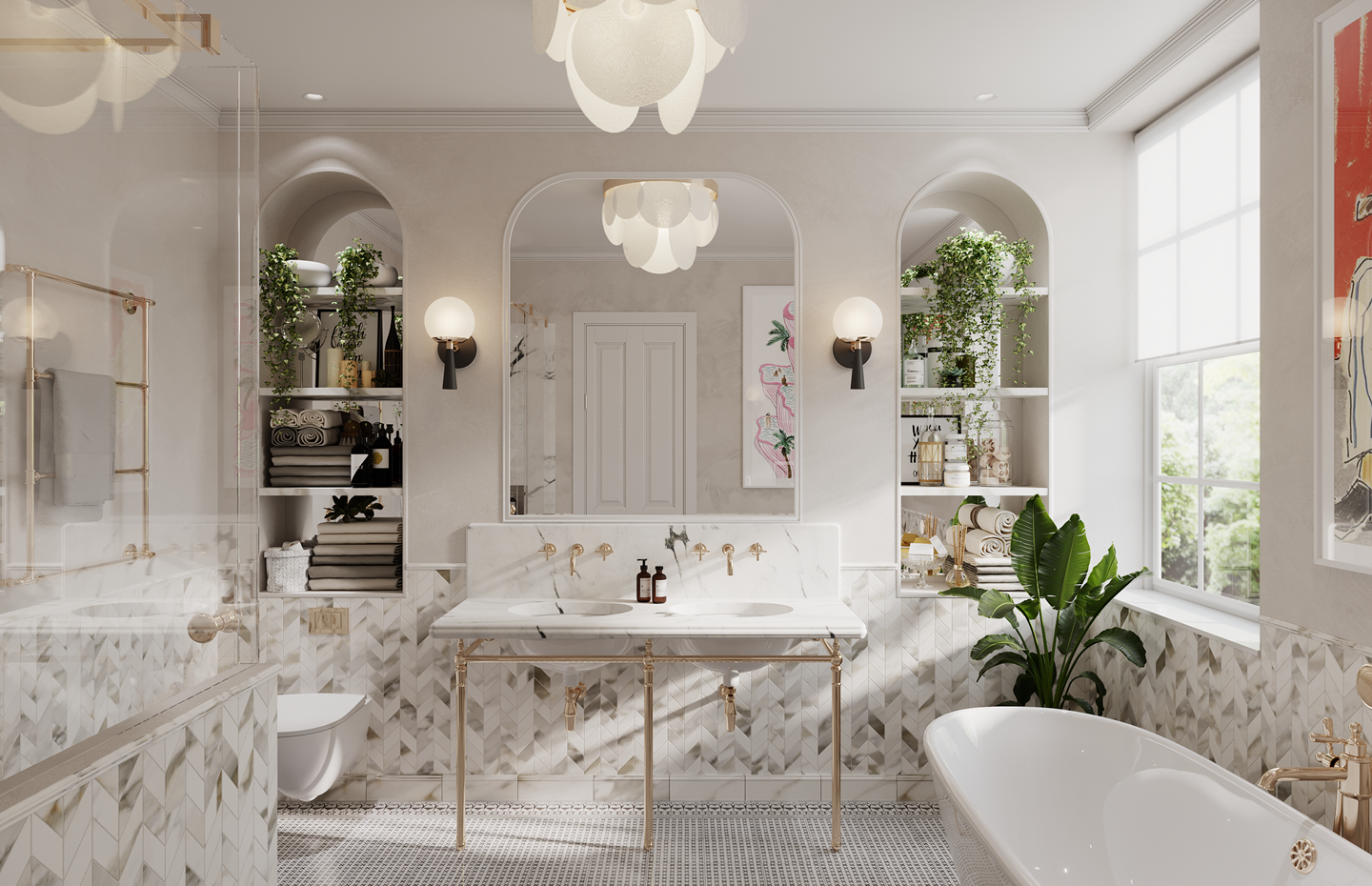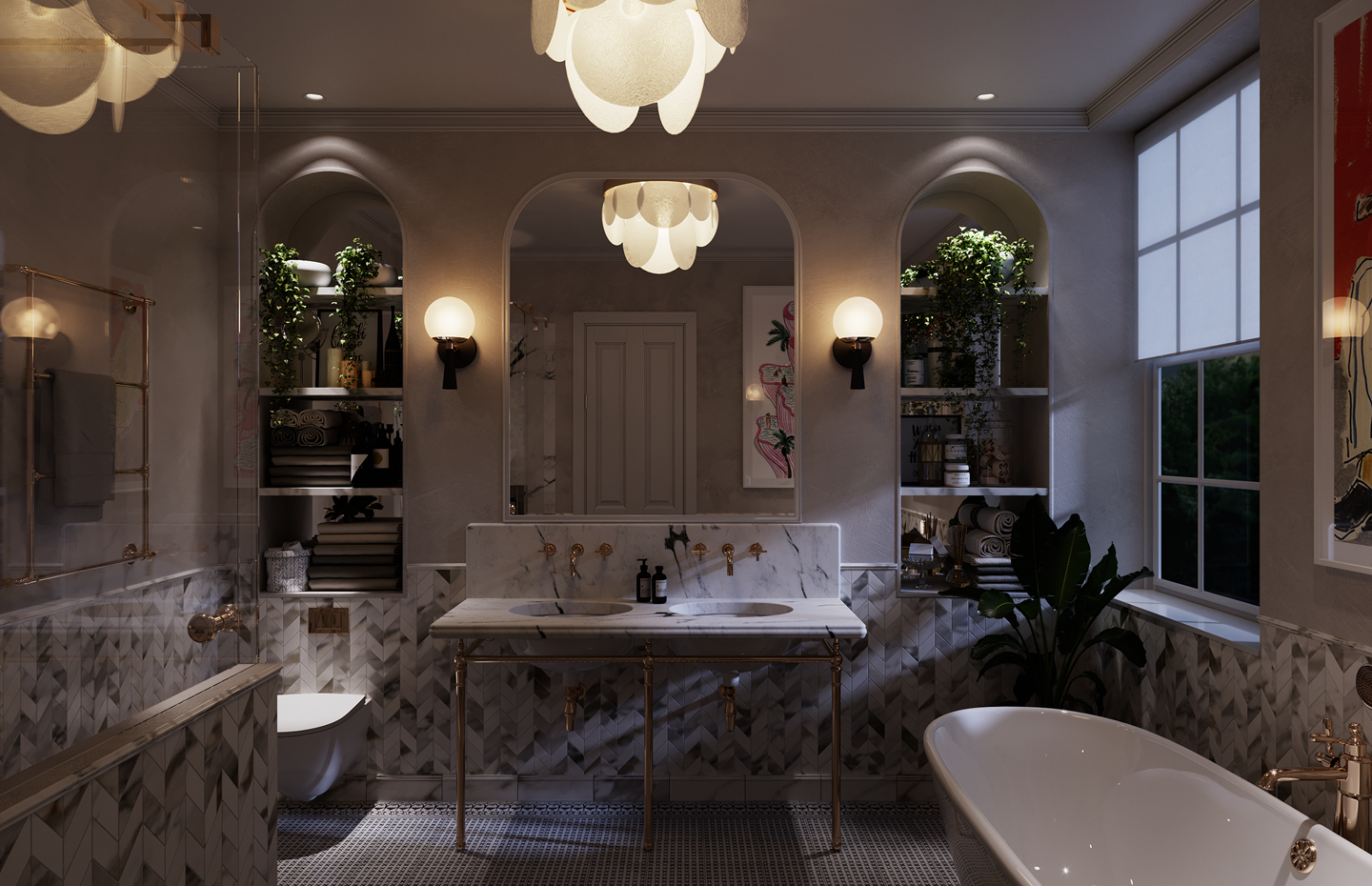 ---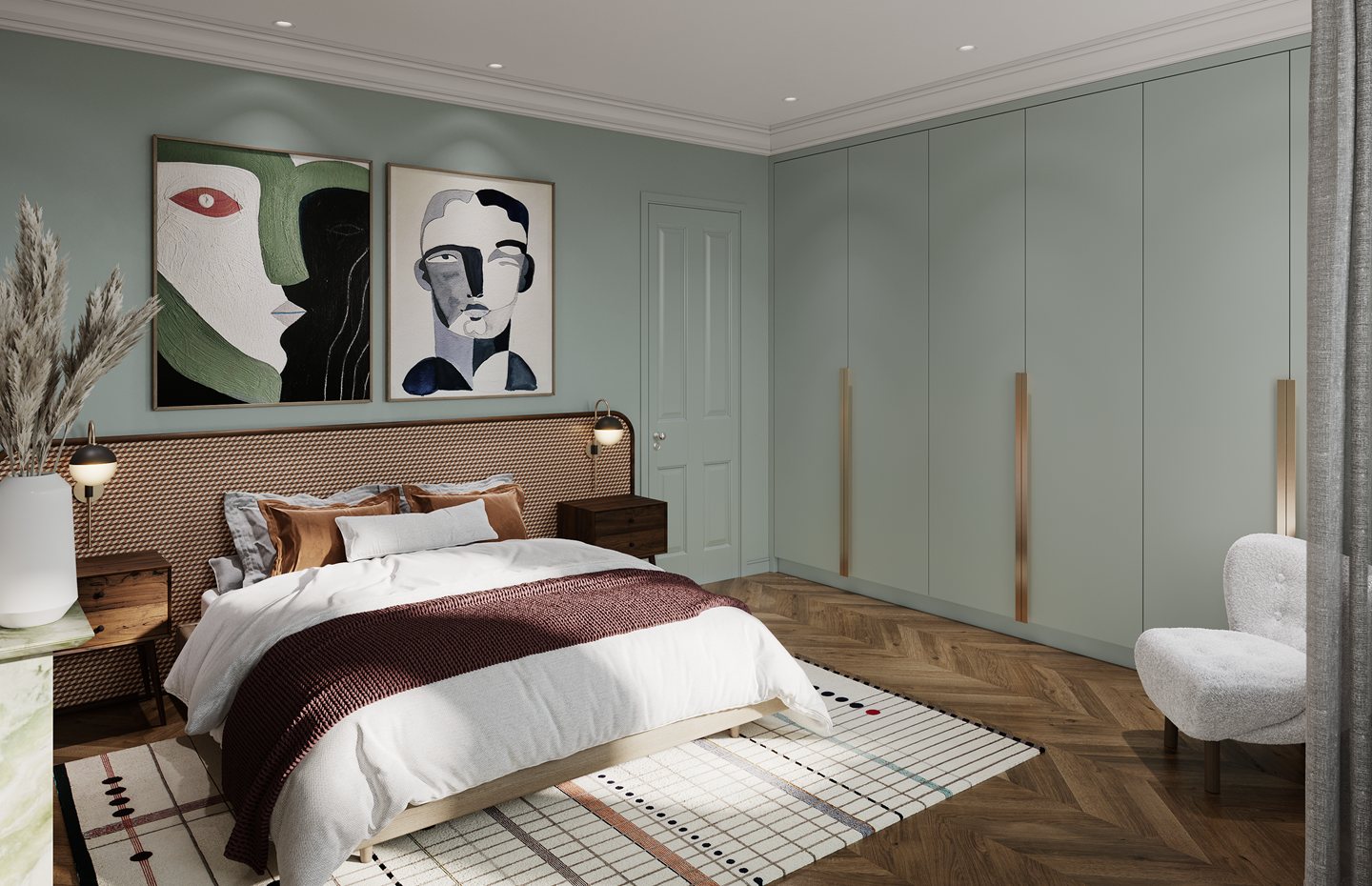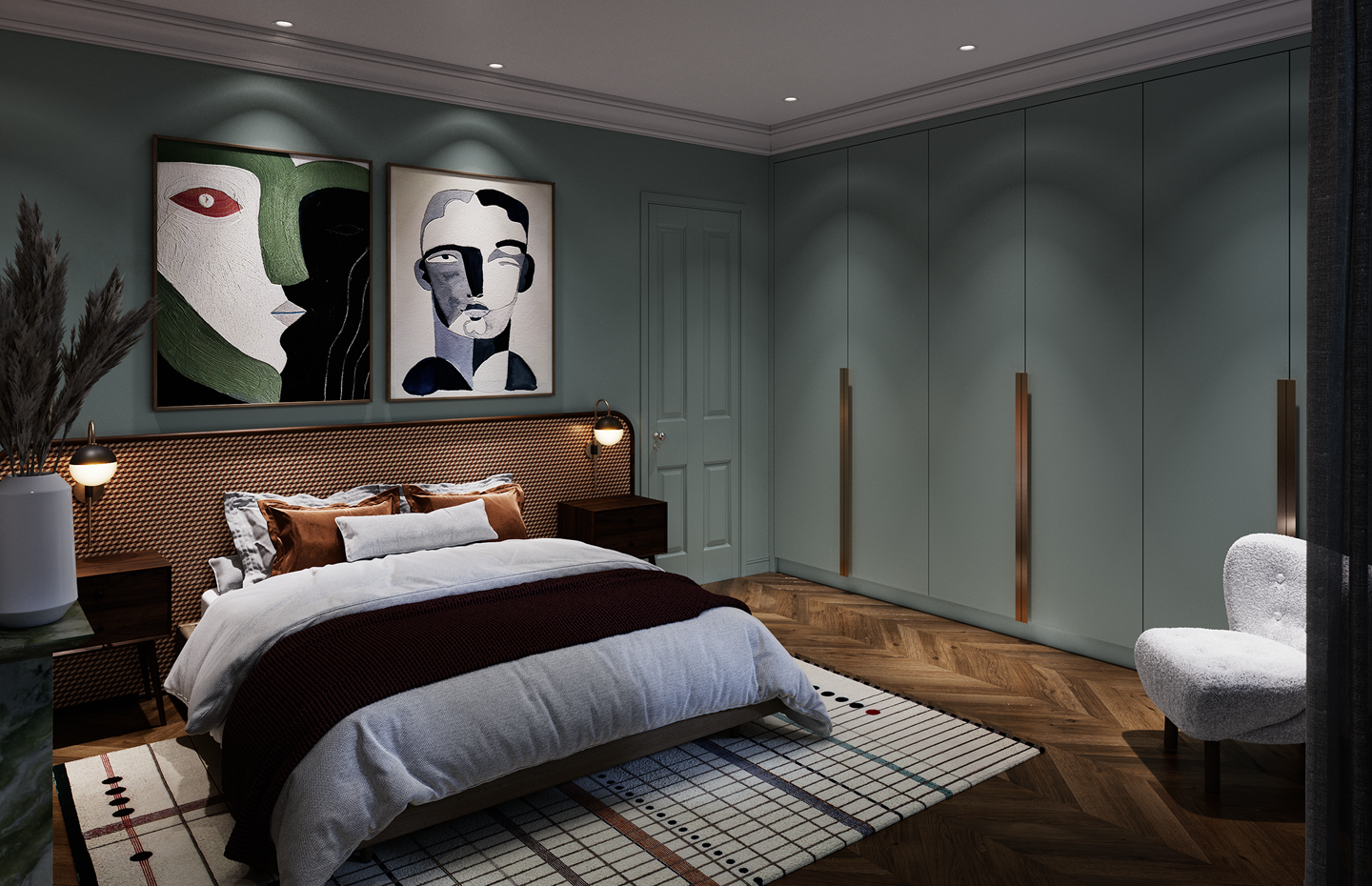 Master Bedroom Interior Design
We designed a bespoke wardrobe to be the same colour as the wall and door, with slick brass handles. The personalised headboard has triple-coloured cane detail and integrates reading lights on either side.
Bedroom features and details
We added a new fireplace finished with beautiful green marble, and designed bespoke joinery with drawers and shelves for storage and display. The floor is timber, in a chevron pattern. The dressing unit holds a triptych mirror, while a pelmet conceals the curtain rods to offer a sense of continuity and flow.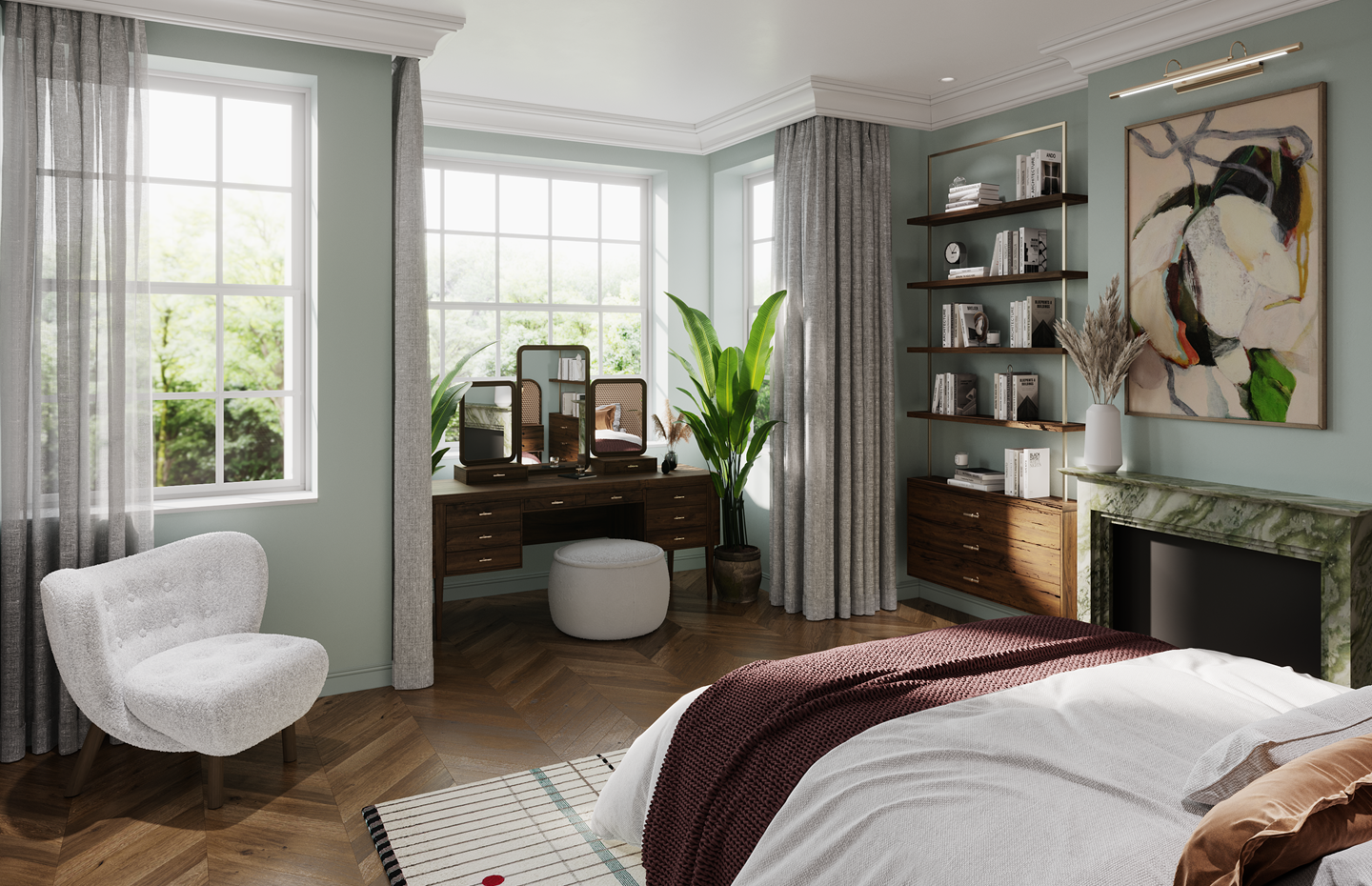 ---