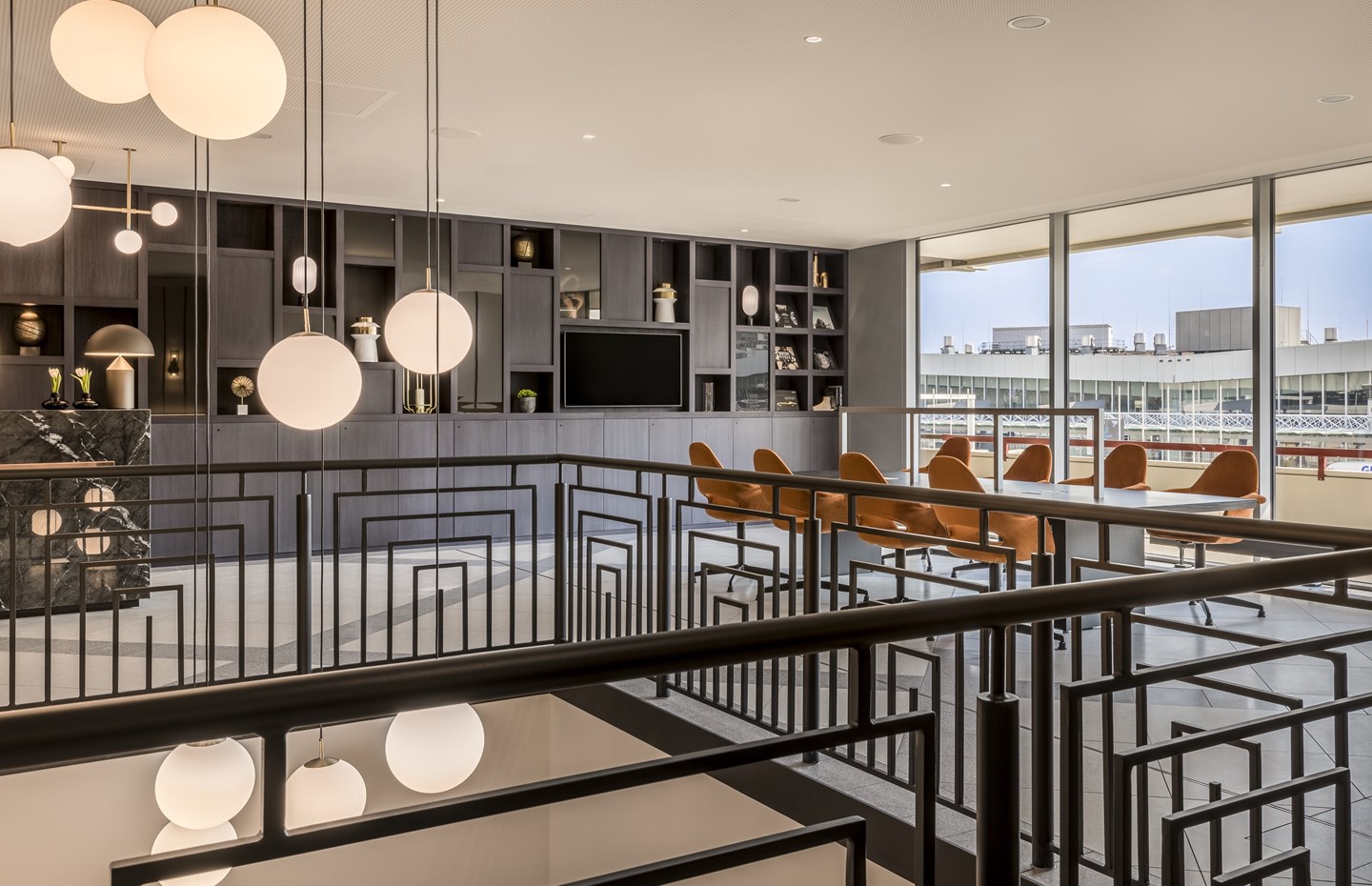 Following a remarkable three-year renovation, Frankfurt Airport Marriott Hotel (open since 2020) and Sheraton Frankfurt Airport Hotel & Conference Center together to become the first European Marriott dual brand hotel operating two Marriott International premium brands, Marriott & Sheraton, under one roof. This development offers travellers two unique brand experiences with a focus on shared distinct culinary moments and exceptional service.
B3 Designers was tasked with redesigning all of the new F&B spaces, and the common areas.
---
THE DESIGN CHALLENGE
For the lobby and common areas at Sheraton, the design challenge posed to B3 Designers was multi-fold. This has been a technically demanding project, owing to its location and range of offers. The functionality of an Airport hotel is unique and different to a business/leisure hotel or resort.
The spaces B3 designed had to serve several purposes. They needed to cater to:
(a) guests checking in to the hotel
(b) guests looking to sit down for a meal, or grab a drink while waiting for flights
(c) in-house guests having breakfast
(d) passengers looking to grab-and-go
(e) those looking to hold a meeting/work on their own
(f) flexibility in the spaces, and
(g) Sheraton brand standards.
RETHINKING FLOOR PLANS AND LAYOUTS
We knocked down existing walls to create large interconnected spaces, and added a range of plush seating options centrally and along the perimeter to serve multiple functions - work, meetings, and leisure.

The new Sheraton Public Place comprises the new Sheraton reception area and Community Table: an inviting brand signature table that anchors the space. This new public space is designed to make guests feel welcome, facilitate meetings or safely gather with friends and co-workers.
MULTI-PURPOSE AND VEILED SPACES
Guests can now check-in at the newly-designed reception area for the Sheraton hotel, catch up with work at the Community Table designed for creativity and productivity with built-in wireless mobile charging and ergonomic seating, or sit down for a relaxed cocktail at the clever Veiled Bar. Unveiling itself as a cocktail and spirits destination in the evenings, it discretely hides spirits behind cabinets, and is complemented by a modern island counter with marble-effect surface. Clever and modern lighting adds to the sophisticated mood across the space.