Brasserie Bellanger, located close to Gare du Nord in the 10tharrondissement of Paris, is the first restaurant from restaurateurs Victor et Charly to open in the French capital.
They asked us to design their 96-cover brasserie, which consists of a dining area, cocktail bar, basement floor with bathrooms, open-plan kitchen and outdoor street-level terrace that can open into the restaurant.
We were appointed to help the duo reinvent the concept of the iconic French brasserie and restore it to its former glory through a fresh and modern approach to design and branding.
The brasserie was named after Charly's sassy and eccentric great-grandaunt, Marie-Louise Bellanger and it is her old French recipes that form the basis of the menu at Brasserie Bellanger.
It was imperative for the interiors to reflect her infectious, fun character, yet still, cherish core traditional values. 
Using an array of traditional materials, our design incorporated elements from iconic brasseries.
Flair and fullness of character were injected through modern touches and an exuberant contemporary colour palette.
Following this, we designed the ground floor colour scheme to be rich and vibrant and the scheme in the lower ground floor and bathrooms to focus on blues and greens with highlights of pink and brass detailing.
The Art Noveau era represents an iconic era in the brasserie's history. We created the Look and Feel of the entire space to revolve around this decorative theme, in the wall tiles, mosaic floor tiles, velvet and brass details, and framed églomisé and antique-style mirrors that clad the walls. Any remaining wall space we adorned with photographs and big portraits of Madame Bellanger.
Madam Bellanger left behind many heirlooms, which we wove into the restaurant design, such as her vintage armoire that we positioned pride-of-place.
We chose a mid-century style banquette seating that combines timber, leather and velvet, to create a slick alternative to traditional banquette seating.
Additionally, table and bar tops -in an array of empress green, red griotte or carrara marble- are completed with the traditional Thonet chairs and bar stools that are typical of a classic French brasserie.
The light fixtures on the walls in the dining room, bespoke table lamps along the bar, and brass-opaque globe chandeliers are all contemporary.
Watch: a video showing the interior design at Brasserie Bellanger, courtesy of Le Parisian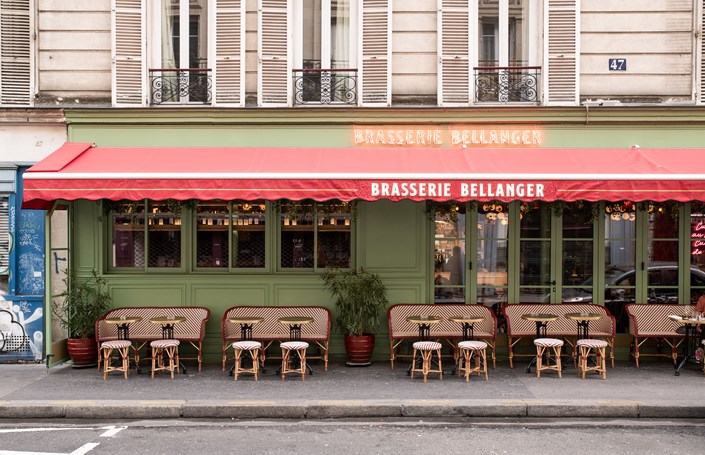 'A collaboration that couldn't have gone better. From start to finish, the B3 team was very reliable, respected all deadlines, always delivered flawless work and was strong with great ideas at every step of the project. Ourselves based in Paris, we have never met such a talented team of designers. We actually didn't hesitate a second before working again with the team for brand new projects!'
Charles Perez – Co-Founder, Victor et Charly.